Pyramids of Egypt have been always feeding on curious minds. With structural perfection and interesting theories, Pyramids are marvelous historical wonders. This article is just about sharing some of interesting facts of Pyramids that you might not know.
Why were Pyramids built in the first place?
Pyramids are astonishing wonders of the world. However, the reasons for building pyramids are more interesting. Egypt's pharaohs were obsessed with becoming gods even in the afterlife.
They thought that erecting big temples dedicated for themselves would ensure just about their wish and sustain themselves in the next life.
The pharaoh khufu initiated a pyramid project that was 481 feet long with estimated 2.4 millions stone blocks in it and interestingly, those blocks each weighed 2.5 to 15 tons. Well, there are so many theories revolving around how who carried those stones to the pyramids.
Now, let's talk about interesting facts of Pyramids
There are numerous interesting facts of pyramids that might not be true. Lets talk about some true facts of pyramids that you might not know about.
Interesting fact 1: Each block weighed more than a elephant
The pyramids are said to have 2 million bricks that weighed 2.5 to 15 tons, more than an elephant. Can you imagine how workers used to carry these blocks around the pyramids?
Yes, pyramids was no result of no technological or heavy machinery. History spills, 100,000 skilled workers contributed in this noble cause.
Still the question stands, how was it possible that they moved the rocks around that size? That my friend is a mystery.
Interesting fact 2: The glittering pyramids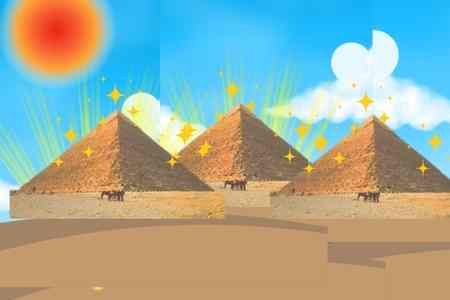 One of the interesting facts of pyramids is that they were once glittering like jewels in the presence of sunlight.
Matter of fact, thousands of skilled workers polished Pyramids with glimmering lime stones. Sadly, the coverings have faded away with time. Then again, some of the limestone got loose and fell off with earthquakes.
In its newest appearance, you can imagine the pyramids reflecting sun rays all over looking like big jewels. According to archeologists, 2 million limestones made the structure of pyramid of Giza.
Interesting fact 3: The curse of pharaoh preserved the pyramids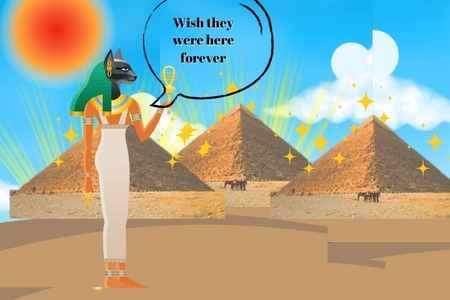 Pyramids were to protect the dead pharaohs from spiritual disturbance while turning into gods. The interesting fact is the curse of Pharaoh is believed to be still contributing protection to pyramids
Strangely yet interestingly, many archaeologists who were researching the secrets and mysteries of pyramids either ended up dead or stuck with bad luck.
Even though experts beg to differ, the Egyptians know what this is all about.
Interesting fact 4: The temperature inside pyramids are comfortable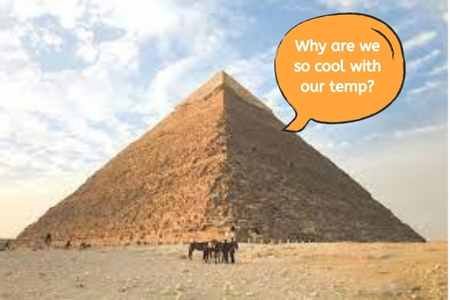 Talk about the 4th interesting fact of pyramids, well let's talk about the earliest air conditioning, yes the pyramid is one.
Interestingly, with the up and down in temperature of outside, the temperature inside pyramids remains the same which is 20 degrees celsius
We all know about Egypt being the country that faces scorching sun all around the day but strangely that never seemed to alter the inside temperature of pyramids which begs the question. But that's still a mystery.
Interesting fact 5: 23 years for a single pyramid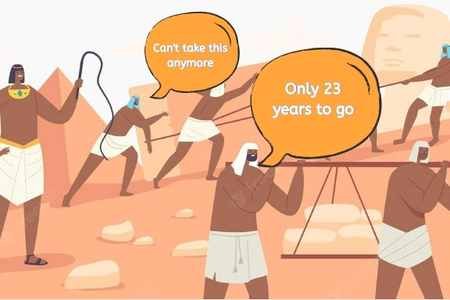 Can you imagine the estimated time to build one pyramid? Yes, of course that's in the title. But can you imagine how much thought, perfection and complex architecture the builders put to build one single pyramid?
It's probably unimaginable. It's 23 years, give or take, that the 100,000 skilled workers borrowed to construct each pyramid. These pyramids are still open for drawing new facts, theories and researches
Interestingly, to this day, even the most well-known skilled scholars cant explain the complex and brilliant architecture and engineering perfection of pyramids.
Final thought
If I were to share all of the interesting facts of pyramids of Egypt that would be an endless conversation. I tried to put the most interesting ones that probably you might not know.