Learn how to become rich with Fashion Photography in a year in this article.
How to become rich with Fashion Photography in a year?
It is a difficult journey to become successful in this career path. But it is not an impossible task. With proper techniques and dedication, almost anyone can become rich in this genre of photography. Let us discuss some of the techniques which you might follow.
What is Fashion Photography?
Fashion photography is a genre of photography where arts and commerce meet together. It is a fun and exciting genre of photography. This type of photography is devoted to displaying various fashionable items including, clothes, bags and other accessories. Fashion photography is usually conducted by fashion magazines, advertisement agencies, etc. It is a star-studded show of wonder. In fact, a professional fashion photographer can earn millions. But it is quite difficult to get into the scene. You need to have a strong network before you choose this profession as your career.
Richest Fashion Photographers in the world
Before starting our discussion on how to rich fashion photographer, let us know about some of the most famous and rich fashion photographers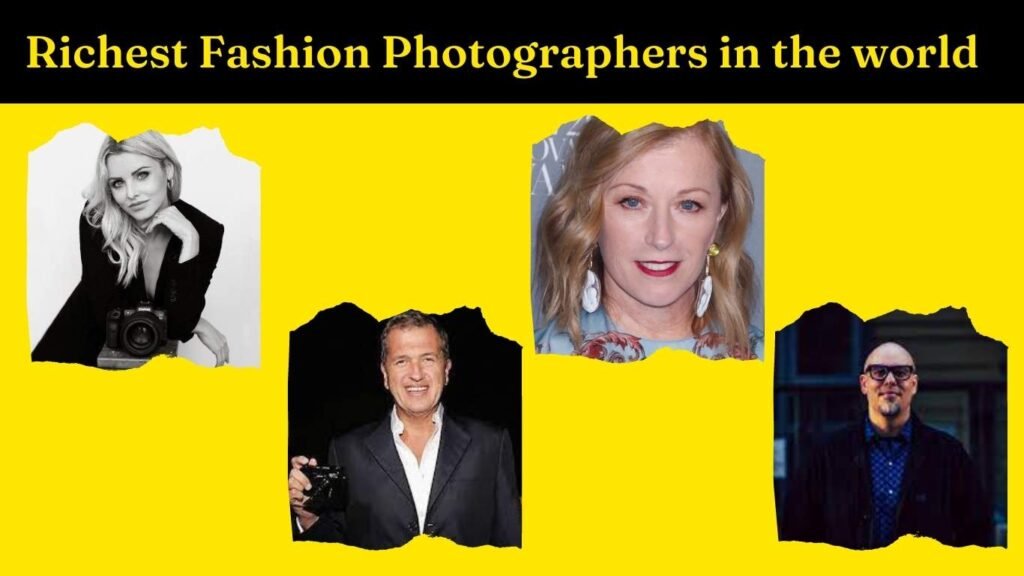 Cindy Sherman
Cindy Sherman is really popular for her self-portraits. She has likewise worked with high-style brands, magazines, and cosmetics companies that love her outstanding work. Her net worth is around 35 million dollars. Her work is truly outstanding and amazing
Morgan Norman
His net worth is around 18 million dollars. He is mainly known for his celebrity and fashion portrays. His work appeared in multiple well-known magazines. Moreover, his portrayal is renowned all over the world.
Mario Testino
He is known to be one of the most famous fashion photographers in the world with a net worth of around 17 million dollars. His pictures are praised all over the world. Additionally, he has made a great name for himself in the fashion industry.
Lara Jade
She initially started her career with self-portrait photography. Later she started doing fashion photography. She has worked with many models and celebrities. In this way, she earns a hefty amount of money through fashion photography.
Content Creation
This is somewhat a better and newer approach for earning through fashion photography. Most brands are now aware of the power of social media and content creation. As a result, Brands need photographs of their new clothes and accessories consistently, for all seasons, exceptional events, occasions, and fashion shows. You can build a strong network with the people right inside the fashion industry through content creation.
Shoot Ad Campaigns
This is a great way to earn a ton of cash. Companies usually invest most of their money in advertising. You will get a huge budget for every ad campaign. So, it is a great way to earn money. Moreover, you will be able to learn a lot of new things.
Freelance Photography for an E-commerce website
Many giant e-commerce websites hire freelance photographers to complete various projects. For this reason, always stay on the lookout for this kind of opportunity. You can earn money from multiple sites by doing this.
Sell Photographs As NFT
This is probably the best way to become filthy rich through fashion photography in the modern generation. NFT means Non-Fungible Token. You can sell your artwork all over the world and earn a crazy amount of money. However, be a little careful about cyber security issues.
Sell Stock Photographs
You can directly sell your pictures on various websites like Shutterstock, pixels, Unsplash etc. You will be paid money every time when someone purchases your photos. Many famous photographers use this technique to earn a lot of money. Moreover, it can be a great source of passive income.
Build Relations
This is an unpopular tip. But it is truly an effective one. Fashion photography is all about building a strong network with people in the fast-paced fashion industry. The stronger network you have, the more money you will earn. It is as simple as that. So, try developing your communication skill along with your social skills.
Build Strong Social Skills
You have communicated with tons of people on a regular basis if you want to become a fashion photographer. So you must polish up your social and communication skills. Start talking to newer people and build a strong network. Or else, it is very difficult to succeed in this field of photography.
Learn Post Production Skills
Post-production is an important part of every photography session. You can earn a great sum of money if your editing skills are really polished. In addition to photography skills, it is a great skill to learn.
Conclusion
Hopefully, you got to learn how to become rich with Fashion Photography in this article. Fashion photography can be tough for many people. It is an unconventional career choice. But it is possible to build a successful career out of it. Follow the instruction in this article to build an amazing career in the field of fashion photography.